Sentinel Hub Webinar: Open Source Intelligence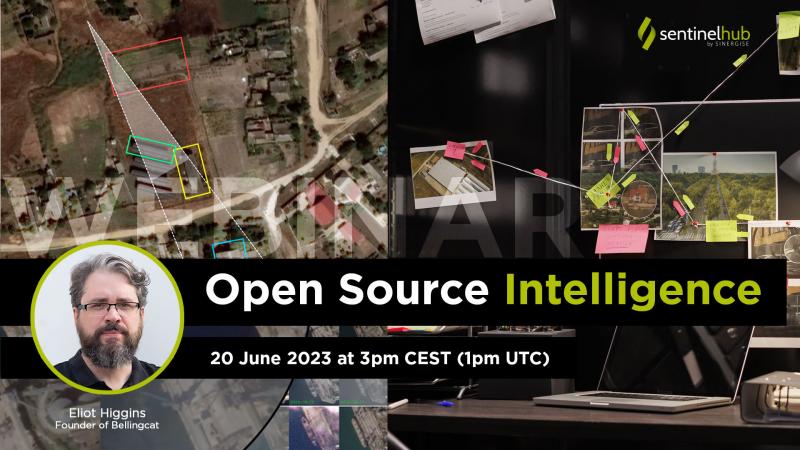 Join us for our next Sentinel Hub webinar on June 20th 2023 at 3pm CEST (1pm UTC) when we have Eliot Higgins from Bellingcat as our guest. He will be talking about Open Source Intelligence and journalism. Do not miss this opportunity to learn from one of the founding fathers of the field.
The increasing availability of satellite data has made it a fact-checking tool. Open Source Intelligence (OSINT) is information derived from openly available data such as online images and videos, vehicle tracking or remote sensing. OSINT can help verify or refute reports from news outlets or social media to support truthful reporting on sensitive issues. In addition, OSINT is increasingly used in court cases related to war crimes and for a broader understanding of conflict situations. This webinar will demonstrate the identification of time and location of events (geolocation and chronolocation) as an operation involving multiple sources of openly available information.
The topic will be presented by our special guest Eliot Higgins, founder and creative director of Bellingcat. Bellingcat is an independent, investigative collective of researchers, investigators and citizen journalists that has become one of the best known OSINT organisations. The Bellingcat Team has won the "International News Media Organization of the Year" prize of the Society of Editors in 2022. The film Navalny, produced based on evidence uncovered by Bellingcat, has won the 2022 Academy Award for Best Documentary Feature.
Register now and secure your place!
Previous Webinars
Visit the Sentinel Hub Webinars page to watch our previous webinars and learn more about various topics related to the Sentinel Hub, where you will be also able to find the recording to this webinar when available.