RACE Upscaling Competition Results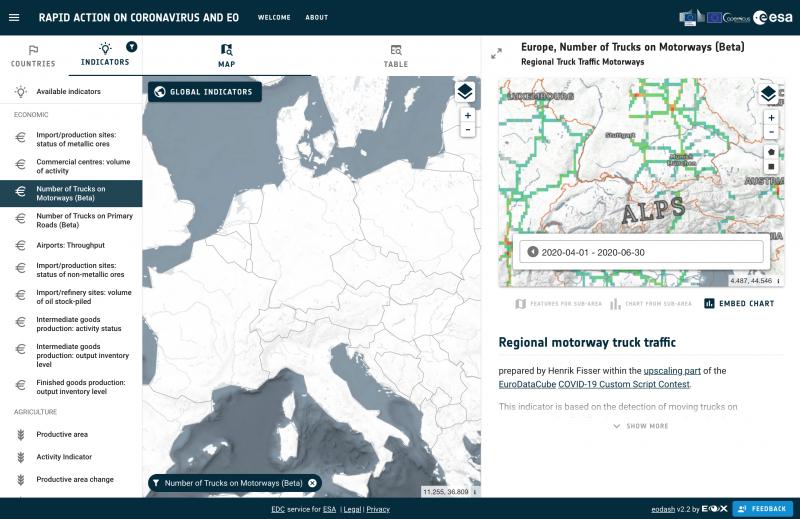 In April, the European Space Agency (ESA), in coordination with the European Commission, launched a special edition of the Custom Script Contest, focused on the support of space assets during the COVID-19 crisis, managed by Euro Data Cube group. Following a format similar to the Sentinel Hub Custom Script Contest, but further to looking into new algorithms, we were in the quest for ideas on how satellite data could help monitor and mitigate the situation after the pandemic. After seeing the quality of the best contributions, ESA decided to offer them an additional opportunity— to upscale their ideas and integrate them into a common place: the 'Rapid Action Coronavirus Earth observation' dashboard. The portal, also known as RACE, provides access to key environmental, economic and social indicators to measure the impact of coronavirus lockdown and monitor post-lockdown recovery.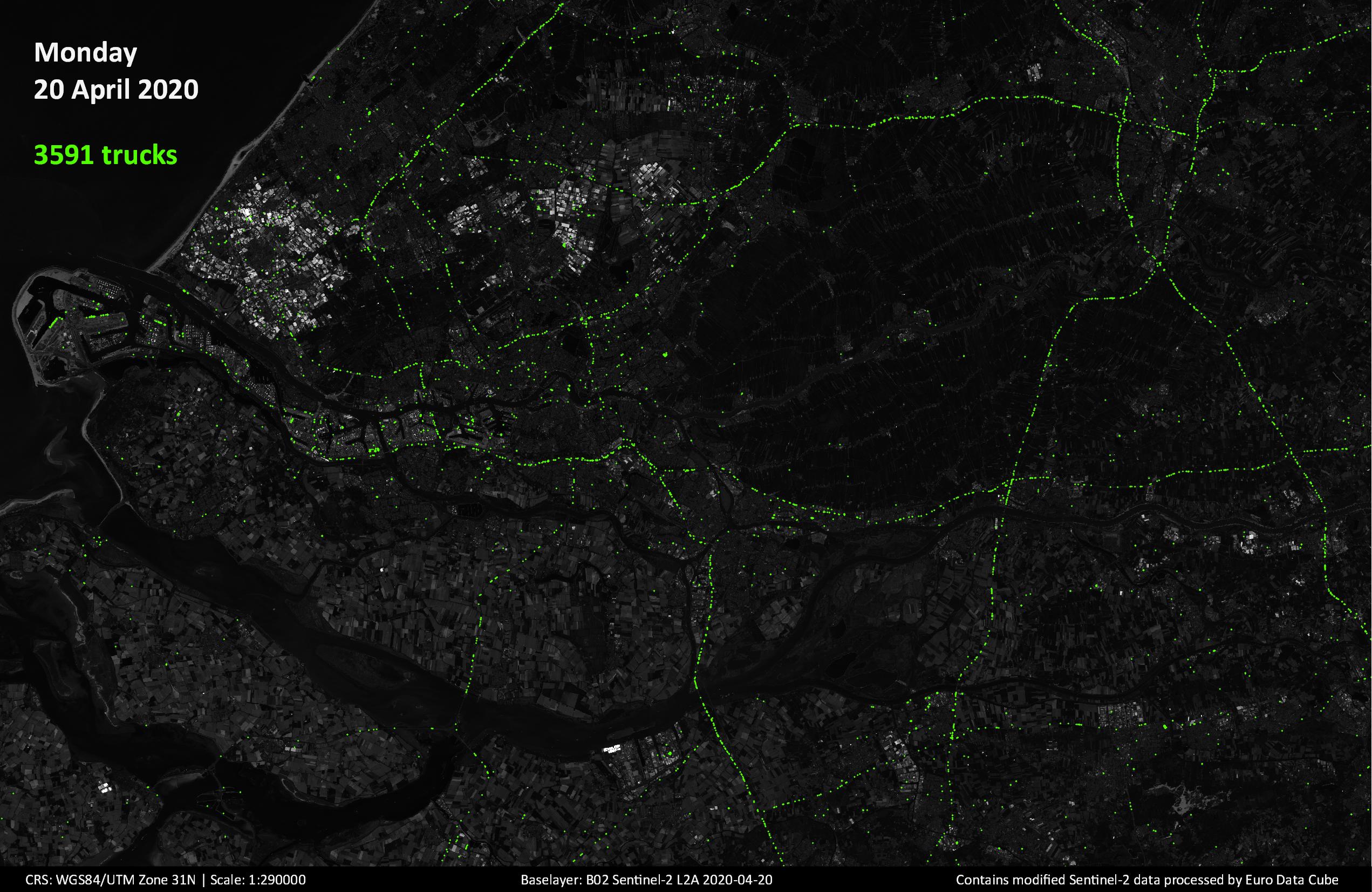 An example of detected trucks around Rotterdam, Netherlands
The authors behind the ideas included in the RACE upscaling competition have "simply" used open and free Copernicus resources on the Euro Data Cube to process them to full European scale. From these submissions two overall winners were selected and are now being integrated into the RACE dashboard. Besides their ideas being showcased on the international dashboard, the winners have also received additional prizes for their effort. A super-prize of 10.000 Euro, meant for the best one, was actually awarded to two teams, in recognition of the quality of their work. The third and the fourth best contributions have received 5.000 Euro prizes.
The ESA's jury awarded the following ideas:
Truck Detection — Sensing Trade from Space
Author of the idea: Henrik Fisser from Julius-Maximilians-University Würzburg, Germany
Measuring Airport Activity from Sentinel-2 Imagery to Support Decision-Making during the Pandemic
Authors of the idea: Mauricio Pamplona Segundo, Rodrigo Minetto, Cole Hill, Allan Pinto, Ricardo Da Silva Torres and Sudeep Sarkar
Foreseeing the Transportation Modal Shift
Authors of the idea: Michel Deudon and Zhichao Lin, France
Water Quality Monitoring for Main European Rivers
Authors of the idea: Giulio Meucci and Francesco Mancuso, Italy
Read more about each of the winning idea in our RACE Upscaling Competition Results blog post.


Po, Piacenza — The Sentinel-2 images acquired on 6 February 2020 and 11 April 2020 show the difference in detected turbidity. Again, the levels were lower during the pandemic.
We congratulate all participants and the winners. This kind of public engagement shows that the resources provided by the Euro Data Cube can be used in combination with Copernicus satellite data to monitor impacts of the coronavirus pandemic. We are looking forward to seeing them being used for a good cause.