Extended Deadline for the Sentinel Hub Custom Script Contest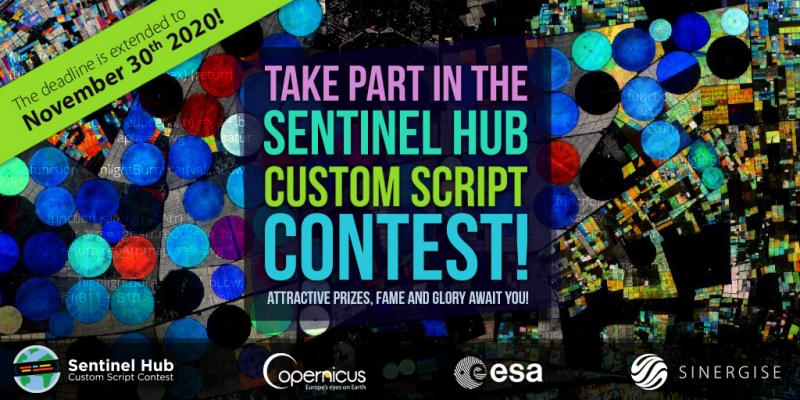 We would like to extend our invitation to participate in the third round of the Sentinel Hub Custom Script Contest. The deadline for submissions has been prolonged until 30th November 2020, giving you enough time to turn your ideas into scripts.
As announced back in April, we continued with the third edition of the Contest, starting on 4th August 2020. We were accepting the early bird submission until 20th September, and the winner was already announced on our official Contest page in October.
More About the Contest
Together with our partners, the Copernicus EU Earth Observation programme, the European Space Agency and AI4EO consortium we are looking for new and innovative ideas and scripts. Therefore, we have organized a series of the Sentinel Hub Custom Script Contests starting with the first one in Spring 2019 and following with the second one in Winter 2019/2020. In April and May we have organized a special edition of the Contest - the Covid-19 Custom Script Contest. It was aiming to help the world facing huge challenges getting back to 'normal' after the coronavirus Covid-19 pandemic.

The third round of the Contest is introducing a new optional challenge, with dedicated prizes. To qualify for it, besides the already known requirements, your script will have to be based on a machine learning workflow developed using eo-learn - a collection of open source Python packages to seamlessly access and automate the processing of spatio-temporal image sequences acquired by any satellite fleet. You can find an example of such script here. Ideally participants would contribute to the code-base during the contest.
For more information about the attractive prizes, how to participate, who the jury is, how your script will be evaluated, and most important how to start, visit our official Custom Script Contest web page. We are looking forward to your submissions.
Check also our blog post Why join the next Sentinel Hub Custom Script Contest and FAQ topic on the official Contest page for details. You can also contact us on our Forum.