Awarded Projects in the GEO-Amazon Programme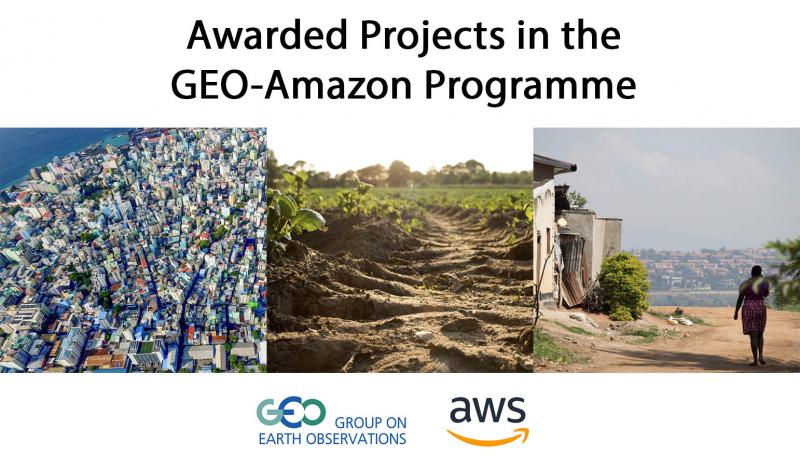 We have already announced our support of Group on Earth Observations (GEO) — Amazon Web Services (AWS) Earth Observation Cloud Credits Programme and introduced details of GEO and AWS partnership. The Programme committed to award projects improving understanding of our planet with $1.5 million USD worth of cloud services, grants and technical support. The resources will help 21 projects from 17 developing countries to realize the potential of Earth Observation (EO) for sustainable development.
Awarded projects will provide development of applications covering various fields, such as monitoring of wildfires, managing ground water resources, improving agricultural yield to mapping and monitoring of forested areas. They are all contributing to activities of the GEO Work Programme, and GEO's engagement priorities (the Sendai Framework for Disaster Risk Reduction, the Paris Agreement for Climate and the United Nations 2030 Agenda for Sustainable Development).
Among the awarded projects using Sentinel Hub service, which enables access to the most commonly used satellite datasets (Copernicus Sentinel-1 and Sentinel-2, USGS Landsat, Aqua and Terra MODIS and others), we can find the following ones:
Fire Monitoring Service, Tsinghua University, China
agriBORA — Geodata for actionable farm intelligence, Kenya Agricultural and Livestock Research Organization (KALRO), Kenya
EO For Sustainable Development, National Institute of Statistics and Geography (INEGI, Mexico), Mexico/Colombia
Operational monitoring system of ground deformations in Nigeria, Department of Geoinformatics and Surveying, University of Nigeria, Nigeria
Deep Learning for Satellite Monitoring of Illegal Amber Mining in Ukraine, Kharkiv National University, Ukraine
Monitoring Rice Paddy and Flood in the Lower Mekong Basin, HCMC Space Technology Application Center, Vietnam
We are looking forward to seeing applications developed within these projects. For more information see our blog post.