Sinergise partners with Planet Labs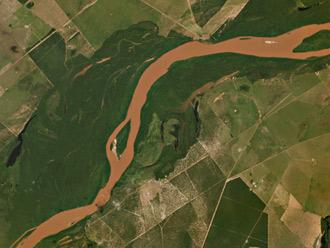 We are proud to announce that Sinergise has become a re-seller of Planet Labs imagery - both RapidEye and Planet Scope.
We will immediately start working to bring these new capabilities to the Sentinel Hub platform, where it will be easily accessible for you.
Available Data
RapidEye - a constellation of five identical satellites offers a unique combination of attributes within the industry. A remarkable amount of high-resolution, multi spectral imagery can be collected from the satellites: up to 5 million km² a day, and over one billion km² every year.

Specifications

PlanetScope - Planet Lab built the Dove satellite, a 3-unit cubesat that's packed with the latest technologies. Dove satellites are designed to operate in concert to continuously collect imagery of the sunlit portion of the Earth's surface. Planet is working towards a fleet of 150 Dove satellites operating in Sun Synchronous Orbit. Planet projects that 150 satellites will capture the Earth's landmass every day. Ground stations on 3 continents collect imagery data from the Planet Labs fleet multiple times a day.

Specifications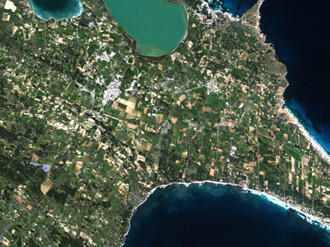 Formentera, Spain (© BlackBridge)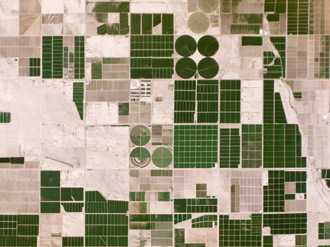 Irrigation in Pinal County, Arizona (© Planet Labs Inc)
Imagery specifications
Product Attribute

RapidEye Imagery

Planet Imagery

Camera

Pushbroom sensor

Bayer Mask CCD

Resolution:

5 meters per pixel

3-5 meters per pixel

Spectral Bands (nm)

Red: 630–685

Green:520–590

Blue: 440–510

Red Edge: 690–730

NIR: 760–850

Red: 610–700

Green: 500–590

Blue: 420–530

Product Components

Orthorectified 12-bit image tiles (25 by 25 km). Radiometric, sensor and geometric corrections have been applied.

Visual Product:

Orthorectified 8-bit GeoTIFF with pre-applied color curve for visual analysis and display applications.

Extends the usability of orthorectifed RapidEye products by leveraging full image takes and adjusting multiple images together to cover larger areas more accurately with fewer files. Each 3B product is a full swath-width orthorectified image that has been adjusted and trimmed to ensure the accurate placement and complete coverage.

Analytic Product:

12-bit data delivered in orthorectified 16-bit GeoTIFF file with no visual color-corrections, designed for analytical and scientific applications.

Non-orthorectified product. Delivered in 16-bit unsigned integers GeoTIFF format. Data has been minimally processed. Rational Polynomial Coefficients (RPCs) are available to transform unrectified data.

Unrectified Product:

Non-orthorectified product. No Radiometric and flat field corrections are made. Intended for easy integration into 3rd party tools and APIs. Rational Polynomial Coefficients (RPCs) are available to transform unrectified data.

Mosaicking Method

RapidEye Mosaics are produced by combining multiple RapidEye satellite images to cover an entire region or country with minimal cloud-cover.

Using best pixel composites, Planet Labs is able to create the highest possible seamless mosaics with their data.
If you are interested in the RapidEye or PlanetScope data, please contact us.