Sentinel Hub Webinar: Arctic Wildfires - What can (and can't) we know from satellites?

Join us for our next Sentinel Hub webinar on April 6th 2023 at 4pm CEST, where we will discuss the use of satellite data in monitoring wildfire activity in the Arctic. The Arctic Wildfires topic will be presented by our special guest Dr Thomas Smith. As you may know, satellite data has proven to be extremely useful in tracking and predicting wildfire activity, especially in remote areas like the Arctic. Our webinar will explore whether and how this can be seen through the Earth Observation (EO) data. We will also discuss the phenomenon of 'zombie fires', which seem to survive the winter in peat soils and re-emerge the next year to ignite new fires.
In addition, we will examine the gaps in current EO data offerings and how we can ensure consistent monitoring of wildfire activity in the Arctic. You will learn about the role of climate change in the occurrence of these fires and how this process might further drive climate change.
After Tom's presentation the Q&A session will follow. To answer as many relevant questions on the topic as possible, Pierre Markuse and Grega Milčinski, the co-creator of Sentinel Hub, will also help and share their expertise.
Don't miss this exciting opportunity - secure your spot today! Register and join us on April 6th.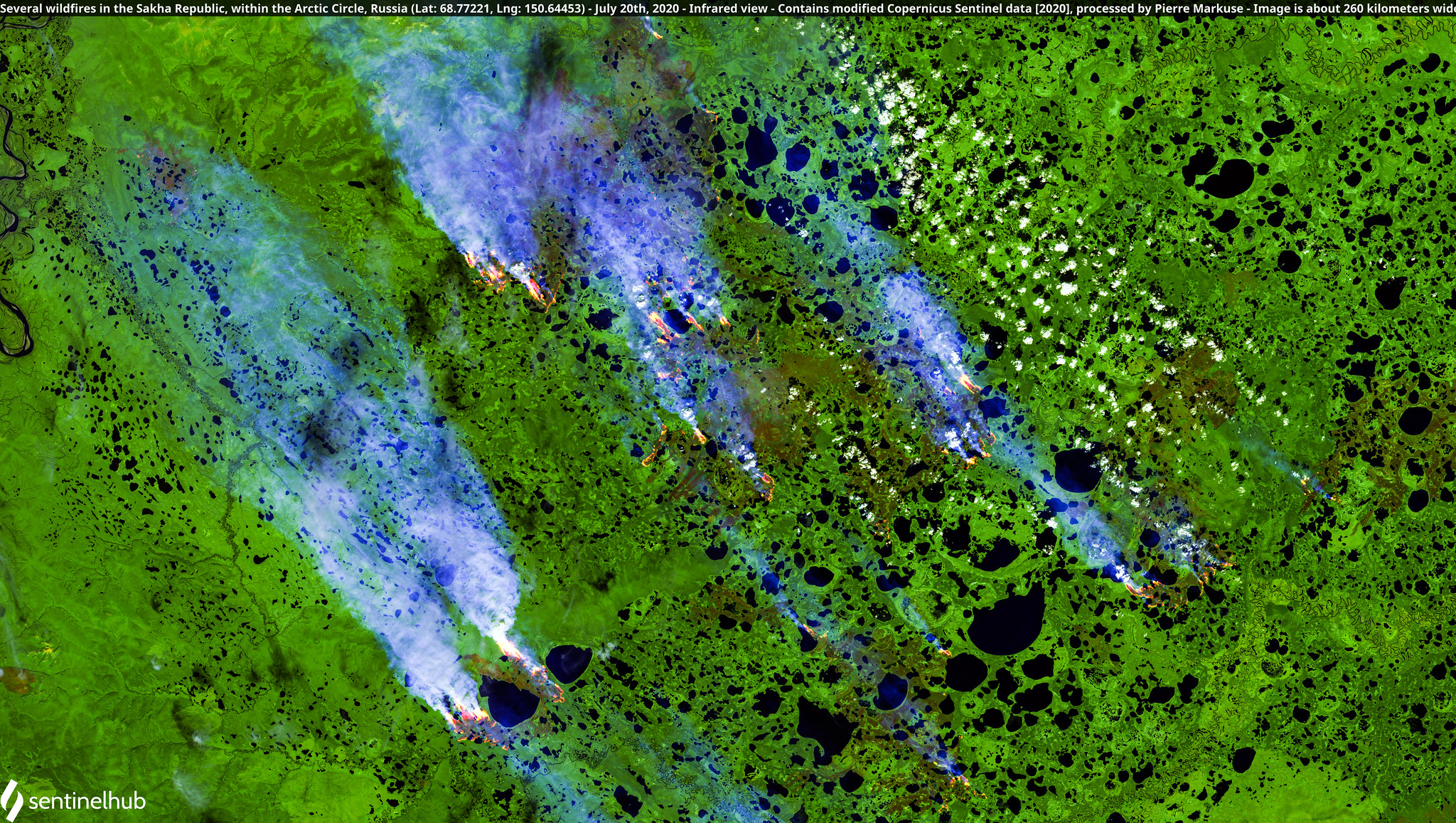 Several wildfires in the Sakha Republic, within the Arctic Circle, Russia - July 20th 2020 - Contains modified Copernicus Sentinel data [2020], processed by Pierre Markuse. Explore it in EO Browser!
About Dr Thomas Smith
Tom is Associate Professor in Environmental Geography at the Department of Geography & Environment at the London School of Economics. As a geographer and environmental scientist, specialising in interdisciplinary approaches to understanding the role of biomass burning in the Earth system he enjoys highly collaborative field and lab research focussing on smoke emissions from wildland fires. He is particularly interested in peatland environments and the complex interactions between agricultural practices, peatland degradation, peat fire emissions characteristics and their associated impacts. Tom has been undertaking research at tropical peatland fire sites across Malaysia, Indonesia and Brunei since 2013, and has undertaken satellite remote sensing projects to investigate fires in Arctic regions. His work focuses on measuring direct fire emissions and monitoring the impacts of fires on post-fire peatland greenhouse gas emissions.
Previous Webinars
Visit the Sentinel Hub Webinars page to watch our previous webinars and learn more about various topics related to the Sentinel Hub, where you will be also able to find the recording to this webinar when available.