PlanetScope and Pleiades integrated into Sentinel Hub

We are delighted to launch a new service providing easy access to very high-resolution data, starting with Planet and Airbus and expanding to others soon. The staged roll-out started at the beginning of April and things are running smoothly - we have ingested more than 20 000 km2 already. If you are interested to try it out, check the documentation and then contact us.
Last year we were lucky to be awarded an ESA funded project to establish the "core" data cube facility service — Euro Data Cube. With Planet taking a role in our consortium we got an inside knowledge about the challenges that commercial providers are facing when setting up their business models. Working closely with the Planet team we were able to iterate much faster to create a model that is good for our users as well as for the data provider and their partners. Also, the tremendous support by ESA gave weight to our discussions with providers, which sped up the process.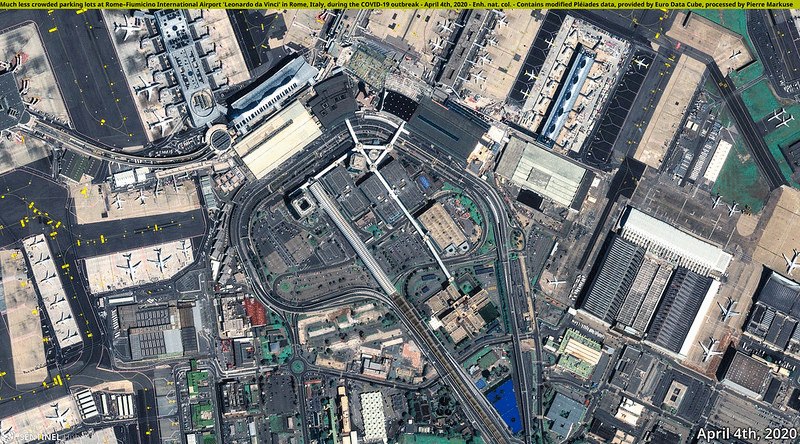 Fiumicino International Airport 'Leonardo da Vinci' in Rome, Italy as seen on the Pléiades images, provided by Euro Data Cube (processed by Pierre Markuse): Full parking lots on March 31st, 2019 and much less crowded parking lots during the COVID-19 outbreak on April 4th, 2020.

Currently we are on-boarding Planet and Airbus. The main challenges of the process were addressed and users can only purchase the data that they need. We will be adding new providers shortly in order to expand the data offering.
If you are a data provider and you have APIs to search and download process, make sure to contact us. We are also working on data fusion functionality, which will make it possible to seamlessly combine various datasets. The operational prototype is already available, so if you are interested to try it out, let us know.
For more details about the launch of the service we invite you to read "There is never enough data — introducing commercial datasets" blog post by our CEO, Grega Milčinski.